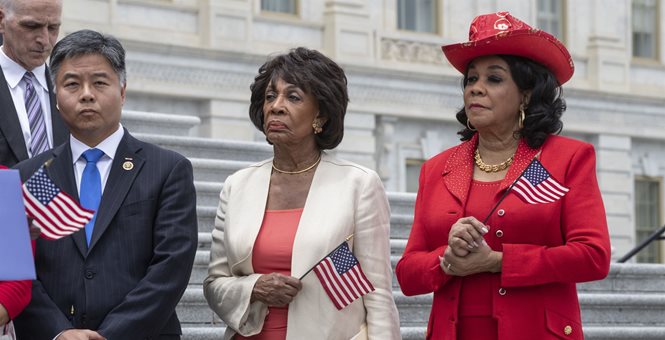 The Democrat Solution for Critics – Jail the Offenders
by John Dempsey
Anyone who criticizes Democrats online should be thrown into jail – at least according to Democratic Florida Representative Frederica Wilson.
Wilson told some of her constituents while speaking to them in Homestead, Florida that people who make fun of congress members online should be prosecuted.
"Those people who are online, making fun of members of congress are a disgrace. We're gonna shut them down and work with whomever it is to shut them down, and they should be prosecuted. You cannot intimidate members of congress, frighten members of congress. It's against the law, and it's a shame in this United States of America."
Her comments were the result of a report that surfaced when a private Facebook page was found, and Border Patrol agents were making fun of illegal aliens and Democratic members of congress.
Short of personal death threats and the like, we should say what we want about congress members. I have not seen Wilson publicly defend President Trump when he's made fun of online. It is the complete opposite. Democrats are silent. Why should right-leaning citizens who make fun of congressional members get prosecuted while left-leaning Americans are allowed to make memes, videos and other forms of content to place on the internet that ridicules Republicans with no threats of prosecution? Democrats are the party of anti-free speech.
The First Amendment speaks clearly about the ability to speak out about the government. If someone makes violent threats against any member, regardless of party affiliation, those comments should be investigated and handled appropriately. However, if a citizen wants to make fun of any party politician, then so be it. Free speech is not about partisan politics. It is about fundamental freedom.
In the Democrat's world, free speech is a one-way street. Wilson could not care less about those who make fun of Republican members of congress – she certainly does not mind the Trump memes. She directed her comments towards Republicans and conservatives to shut down their speech. Democrats hate our number one God-given right. The disdain for conservative speech speaks loudly in social media.
Facebook, Instagram, and Twitter are the giants of social media. They are left-leaning companies that suppress conservative speech through throttling and other means such as suspensions and even de-platforming significant political influencers.
Imagine being a congressperson so fragile that you would step onto a stage and threaten to take away an American's liberty because you did not like them making fun of you online. America is a country where our governing document is written to restrict government, not citizens. Now, a government official wants anyone who makes fun of someone in congress put in jail — a complete inversion of what our Founding Fathers intended.
I seem to remember this type of treatment from history class…
Political party affiliation does not matter in the topic of free speech. Our right to criticize the government was set forth by men who knew what political oppression was. Our government is not like England's for a reason – freedom and liberty are God-given, not government granted. What the government gives, the government can take away.
The government did not give us the right to speak out; God did. Our founding documents dictate this. If Wilson believed the Constitution, she would not make threats to arrest citizens for memes that make fun of politicians.
Irony abounds in this instance. Free speech is used to create memes for many different reasons – hypocrisy, comedy, sarcasm. Memes do not cause anyone to lose rights that the Constitution affords us. Politicians are allowed to say what they like, but anyone who makes fun of Democrats according to Wilson should be shut down, causing us to lose our First Amendment right.
Wilson claimed that it was against the law to make fun of congress members; although, she could not cite a statute to back her claim because it is not valid.
The left wants all forms of speech that does not agree with their ideology suppressed. One example of that is the left-wing group Antifa. The allegedly anti-fascist group are anarchists who travel from city to city using violence to shut down opposing ideas and free speech.
Wilson's mentality is dangerous and should be concerning. Her comments are unamerican, unacceptable, and tyrannical.