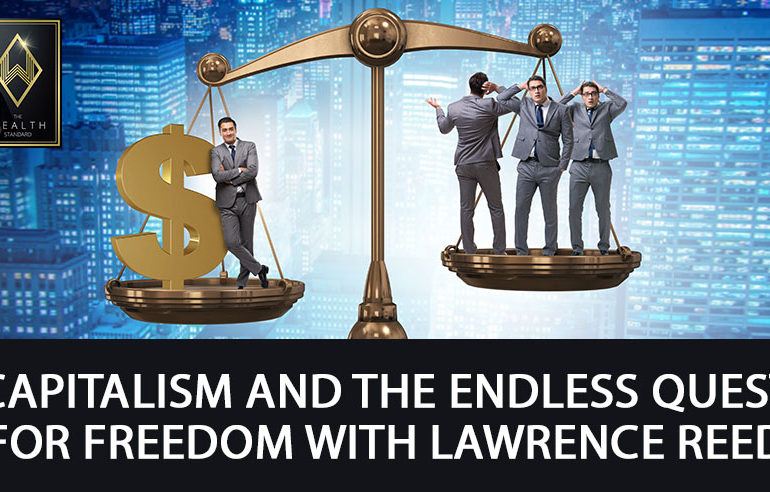 Capitalism And The Endless Quest For Freedom
with Lawrence Reed
Alongside our basic need for shelter, food, and clothing, a person's yearning for freedom and liberty has always been present no matter what era and time. Lawrence Reed, President of the Foundation for Economic Education, talks about freedom and capitalism. He believes that each individual that comes into this world has the right to do anything that's peaceful. He recounts what brought him to this quest and perspective which was the Soviet invasion of Czechoslovakia in 1968, and explains the philosophy of capitalism which he believes is the economic component of a free society. He also relates the importance of understanding freedom on different aspects of life and how everyone will benefit from it.
You're going to love my guest. One of the most brilliant minds out there in relation to freedom and liberty. He is the President of the Foundation for Economic Education and he is also the author of bestselling books. Those include Excuse Me, Professor: Challenging the Myths of Progressivism. He also has authored a number of pamphlets including the Great Myths of the Great Depression and his Real Heroes. My guest is Lawrence Reed. Larry, it's great to have you on. Thank you so much for taking the time.
It's my pleasure. Thank you for having me. I appreciate it.
You're an incredible wealth of knowledge. I want to dive straight into a description. How you would describe to somebody your philosophical views of life and business, which is part of life too.
I've always been a little bit hesitant to assign a label because labels often are shorthand for things that may or may not be true. People jump to conclusions. I always try to stress to people that you should judge another person's views by the value of their content, not by some label you or others may ascribe to them. If I had to put a label on my philosophy, I would be comfortable with classical liberal, that means liberal in the 19th-century sense or in the sense that Europeans use the term even now. I would also be comfortable with the term libertarian. The bottom line is that I believe that each individual comes into this world with the right to do anything that's peaceful. By peaceful I mean as long as you do no harm to another, as long as you respect the life and the property and the contracts and the choices and the decisions of your fellow man, you commit no fraud or force or violence or deception, then the burden should be on those who think in some way you should be restricted. I think you then as a peaceful person who has the right to live your life as you see fit.
We're going to get into what the commonly held description is of how life should be for the collective good. Before that, I would be intrigued to know what helped bring you to this perspective you have that you very eloquently defined.We can delude ourselves into all kinds of fallacies or we can enlighten ourselves with the truth. Click To Tweet
For me, I can say was my parents because, in my mother's case, she never had any political or economic or current events viewpoints. She was a very nice lady that had no inkling about these things and I respect her for that. My father had some good instincts. He was a small business owner and so he bristled at the thought that some distant government might tell him how to run his business. He was in some ways hostile to authoritarianism and very respectful of the individual. He planted some good instincts in me. The most jarring early episode in my life that proved to be pivotal in the development of my thinking was the Soviet invasion of Czechoslovakia in 1968. I was only fourteen at that time. I had begun to be interested in current affairs and I was watching these people in Czechoslovakia increasingly move toward freedom. A new regime had come into power in the early part of 1968 and they were moving away from hardline communism, even talking about free elections.
I was cheering them on because I instinctively thought this is great. They should be allowed to do these things. Then when the Soviets invaded, I remember watching that on television. I was outraged that for no reason other than to bring people under control, to push them around, to live their lives for them and to use force to get it done, you had these foreign powers invading their country and it moved me. Within days, I went to Pittsburgh on a bus from my home, which was at that time about 30 miles away to participate in a demonstration against the Soviet invasion. It was put on by a youth group that I joined. One of the first things they did with new members was they put them on the mailing list to receive materials from the foundation that I now run. My reading then deepened dramatically. I got into this from an anticommunist angle, but my philosophy has blossomed into a full-blown appreciation for human liberty across the board.
Before we get to that, as you look back on that pivotal experience, how would you define or describe that instinct that was compelling enough that you felt for people that didn't speak English that lived across the world? They were pursuing freedom and were essentially invaded under the guise of being able to control and make their life better. What was that instinct? How would you describe that?
Probably an anti-authoritarianism that I inherited from my father. I remember in third grade, I would have been eight. He wanted to take me to Florida for a week to visit relatives in February. I was a student in the local public school in Western Pennsylvania and I mentioned to my teacher that we were going to Florida. She said, "He can't do that. He can't take you to Florida. I'm going to talk to the principal." I went home thinking we're not going to be able to go. I told my dad that and he said, "I'll take care of it." Sure enough, when the principal called, I heard my dad's side of the conversation. He was generally a quiet shy guy, but he put his foot down on many occasions. I recall vividly him saying at one point to the principal on the phone, "He's my son, we're going to Florida. Don't call here again," and he hung up on him. He was my hero. Skepticism of authority, especially authority that had little more going for other than just guns, have always been with me from the earliest of ages. Then I saw those scenes in Prague in 1968. I know it touched me to see people who were not much older than me, students in 1968 being hosed down by water cannon and being arrested and rolled over with tanks. That deeply touched me.
I look at the degrees there because I would say most people would say that type of behavior and how individual liberties were being violated by the hose spraying. Most people would agree to that, but most people would not agree to the notion of you going to Florida during the winter as essentially the same idea. Where is the disconnect there? There are degrees, but how do you typically address that?
That's rather ordinary and automatic for people to think that the two are not in any way connected. The more I came to understand and appreciate liberty, the more I realized that it's a very precious and unique thing. Not many people in the history of the world have enjoyed it. Most who have had it have sooner or later lost it and not by one fell swoop by some dramatic radical invasion by another country. Most of them lost it by a steady and slow drip, erosion where they say, "In this area of life, we can trust the government to run our affairs." Later it's, "Now, we have to do this for us." It's the old slippery slope once you begin to abandon things like self-reliance, personal responsibility, and character taking charge of your life and trusting to politicians to do those things for you. The big question that every Socialist need to answer but never does is, "Where you got to draw the line? How are you going to stop that?" What about the next group that comes along and says, "I want something too" or "I need the government to give me this or that." I became a much more appreciative of the slippery slope that societies have engaged and that have taken them from free societies to tyranny. Often, slowly enough that they didn't realize it until it was too late.
Maybe talk if you would about when something like that is done where a person is impeded from doing something that they want. I would say, give something to somebody because they're less fortunate than the other. What does that do to a person?
It means so much more to all concerned when people do good things like giving to those in need from the heart and by choice entirely voluntarily. So much more good is accomplished by that method than by beating it out of them or sending in the tanks if they don't do it or taxing the life out of them. For the same reason that you don't take a person to church on a Sunday morning at gunpoint and then pat yourself on the back later and say, "I made him religious." It probably had the opposite effect. One of the most important observations about humans is that each of us is extraordinarily and completely unique. No two people who have ever lived have been precisely the same. For me, that screams freedom because you can't be who you are. You can't be fully human unless you have broad sway, as long as you don't harm another, if you don't have broad sway over how your life goes. If somebody else is telling you all those things, you're not really living your life. Somebody else is living their life through you at the point of the gun. That's so anti-human nature. It's unthinkable.
One thing I've come to realize is there seems to be at least, I'm not going to speak absolutely, but there seems to be this natural curiosity that we have as human beings. Children have it at incredible levels. The stifling takes place sometimes when that curiosity is interrupted. I would say the interruption can be to the degree of being invaded by Russia, as far as pursuing things that you want to pursue. I would also say from a school perspective where the curriculum is dictated and essentially, I wouldn't say forced, but highly coerced as far as what you should be studying, what you should be reading, what's right, what's wrong from an academic perspective. That's how I see it. How does that relate to the importance of understanding freedom when it comes to taking the uniqueness of who we are and having the greatest experience that we can in life by pursuing curiosity and pursuing our desires?
You're exactly right. You're on to a very important point. Everyone develops in his or her own way at their own speed and interruptions in that through the use of force or dictation by someone outside. Especially if they're remotely connected to you. It tends to send people down the wrong path. It tends to discourage their lust for knowledge. The most effective teachers are the ones who don't just open up a kid's skull and pour in the facts and figures. The most effective teachers are the ones who strike a match in the mind and the heart of a student. To ignite that lust for learning, to get the kids to appreciate the importance of learning and make them want to do it on their own by inspiring them. That's the most effective way to teach, not to treat a kid as if he's a robot that needs to be programmed at every turn. That runs counter to all that we know about human nature.Labels are often our shorthand for things that may or may not be true. Click To Tweet
We could go to a completely different direction talking about academia and grades and what determines that you're a smarter student. I won't go there, but I do want to pivot to what we've chosen as a theme, which is Capitalism. All of these talking points that we have been discussing so far relate to that in a very peculiar way. Capitalism, to me at least, is a structure that can bring out incredible things from human beings. Maybe as it relates to your role with FEE and the discovery that you made of the principles of liberty and with your specialty in public policy, how do you view or have come to understand what Capitalism is and what its principles are?
Capitalism is the economic component of a free society and that's pretty important. Nobody should say that economics has everything. Economics is the means by which we solve an awful lot of problems. It's the means by which we feed and clothe and house people. It's the means by which people's lives materially can improve and put them in a position where they can do wonderful things, including helping those less fortunate. One of Capitalism's greatest virtues of many is that it's the one system that doesn't require a mastermind or a central planner. Some guy in an ivory tower somewhere who says, "If I have enough cops that I can send out to tell people what to do, I can play in society."
Capitalism is what happens when you leave people alone. You don't have to tell them to do things like trade, invent, create, employ, or build. They do that as long as the incentives are there and they're free to be themselves. We are naturally a creative being as human beings. That's one of the greatest shortcomings of every other system. All the others, non-capitalist systems are contrivances. They are Rube Goldberg contraptions. They are individual humans pretending to be what they can't possibly be and constructing stuff and then imposing it on other people. That is fraught with failure from the word go.
How would you associate that with the previous topics that we were mentioning in the general notion of liberty and specifically to your experience in school and how school dictates and how curiosity is the fire that can be ignited to create some of the most amazing learning? How do you associate that with Capitalism?
Capitalism by its very nature sparks and nurtures. It inflames in a positive way that natural human curiosity. Capitalism basically says, "If you have an idea that you want to try to put in place. You think it will meet a need or somebody will like what you do and give you money for it and therefore you can do better in the process. You're free to do that, go to town." It also says you can't just do these things without regard to the desires of other people or you'll flop. Capitalism says you can't put a robot around you and a crown on your head and tell the peasants to cough it up. You have to produce things that they want and need. If you're good at it, you'll be rewarded for it. I don't know why anybody wouldn't want a system that is aimed at rewarding people who actually meet the needs and desires and wants of other people.
I would say the statement you just made, a lot of people would say that they don't deserve that. They have more than they need and therefore they should share that with others. What's wrong with that argument if it's for the better good of other people? If somebody figures out a way to create value and be successful based on the value they create for somebody else, because they're so successful, they have too much and others don't have enough. Therefore, they don't need all that. Therefore, they should share with others.
The wealthiest among us who have got that way, not because of any special favors from the government. I'm very much opposed to that when it happens, but because of their efforts, their ingenuity, their investments being at the right place at the right time and meeting the needs of a lot of people, by definition, they got there through a life of service. They've created value. In every case, you'll find the so-called super rich who have accomplished great things like that and had been rewarded for it. What society in effect pays them for having done that is a minuscule fraction of the wealth they've added to society. I don't care that Bill Gates has $70 billion. He created hundreds of trillions of dollars in value that didn't exist before. The last thing you want to do is to say to such people, "If you get to where you are so successful because you've done such a good job at serving others, we're going to treat you like a villain." Why would anybody want to do that? Except for some rotten motives like envy and covetousness that never end well.
No, it doesn't, yet that's a pervasive feeling that exists in society right now.
I tell people all the time, "For your own mental health, count your blessings. Don't count the other guy's. You'll feel a lot better about life and you won't be wasting time trying to run somebody else down."
What came up when you were speaking a moment ago, it was a speech you gave a while ago about the wealth and about Adam Smith and The Wealth of Nations. It wasn't necessarily on The Wealth of Nations which most people define as the title of that book that was highly influential. You went into the actual true title of his second book. Would you maybe discuss that and what is the beginning of the title of the book? What relevance does that have to the actual title that most people subscribed to his book The Wealth of Nations?If somebody else is telling you to do things, you're not really living your life. Somebody else is living their life through you. Click To Tweet
Most people know something about The Wealth of Nations, but most don't know that that wasn't the full title. This was Adam Smith's second of only two books. The full title was An Inquiry Into the Nature and Causes of the Wealth of Nations. It's significant to think about that because he didn't entitle it An Inquiry Into the Nature and Causes of the Poverty of Nations. I'm pretty confident if he were here right now and we asked him, "Why didn't you focus on poverty? That's on everybody's mind these days." He would say, "Everybody knows what causes poverty. It's what happens when you don't do anything." It's what happens when the government stands in your way so that it penalizes people who create wealth and solve poverty. He was more interested in how do we go from a naturally poor society, which we all have been sooner if you go back far enough. How do you go from being a poor society to a rich one? That's the problem we need to work out and encourage whatever it is that makes that happen.
Going from a poor society to a wealthy society, what do you say are the causes of that?
I think Adam Smith would say there are several components here. I'm not sure how he might rate their importance, but these are among the ones that he would list as most important. One is you've got to leave peaceful, productive people alone. You can't stand in the way. You can't vilify them. You can't swipe their capital, otherwise, they'll say, "Forget this. Why should I endure the risk and the hassle and the headaches if somebody else is going to take whatever it is I produce?" Don't stand in the way of productive people like entrepreneurs. He would also say that self-interest is a powerful factor. I know that gets a bad rep in a lot of places. People say, "Self-interest, you mean you're doing it for yourself. That sounds antisocial." We all should do whatever we do for altruistic reasons just to help the other guy.
You look around the world and ask yourself, "How much of what actually gets done? How much of what's produced that we benefit from derives from somebody's charitable motive just to help somebody they don't even know?" Not very much. That's not denigrating the charitable impulse. I give to charities all the time, but I don't underestimate the enormous benefit and power of self-interest that's channeled into constructive, positive, wealth-creating directions by entrepreneurs and others in a free society. Think of everything you're going to eat now. How much of that was produced because you said, "Jose, down there in Venezuela, where's my coffee?" No, it's because somebody said, "I can make a few bucks if I meet this need and create a new product and get it to the people who need it." That's a constructive and positive force. It's one of the most powerful things for a higher standard of living, self-interest.
I wasn't planning of talking about this, but he has his first book, The Theory of Moral Sentiments. I haven't studied this in a long time. I know that you're more verse here. Would you maybe get into the moralities behind the principles of Capitalism? As I understood in that book and some of the main premises were that there is this natural driving self-interest for our personal well-being. Through that, we figured out ways to exchange with others and not just benefit ourselves but better the whole. Speak about the morality side of Capitalism and how those human tendencies to be self-interested work out in the favor of others.
That first book of Adam Smith, The Theory of Moral Sentiments. Some Smith scholars argue and I think there's a foundation for this, that maybe that was the more important of the two books. He laid out some of those moral foundations that later he draws out and shows the economic implications of in The Wealth of Nations. Smith was very curious about what motivates people. In particular, what motivates them to do something for other people instead of exclusively and entirely for themselves? When you look at those such things, you go down the path of realizing that people want to feel fulfilled.
If you talk to most entrepreneurs about what motivates them, you'll find in fact, very few of them will say, "I just wanted to pile up lots of cash. I want to sit around and play with my pile of gold coins all day long." No, that's a byproduct of what they're doing. What's most fulfilling to most of them is the very idea of solving problems, interacting peacefully and productively with others. Deriving happiness from making them happy, finding common areas of interest and inventing and creating things that satisfy that lust of their curiosity. Those are far more motivating to people and Smith recognized this. Then the old caricature of the rich capitalists has the desire in one thing, just piling up cash.
That was a couple of hundred years ago, the mid-1700s to the late 1700s. Has human nature changed since then? Are those principles obsolete or do they still apply now?
I think they apply and I can't see how human nature has changed. Remember, one of the key elements of human nature is that we are creatures of ideas. Our underlying nature may not change and I don't think it has, but our ideas can change and ideas have real-world impact. We can delude ourselves into all kinds of fallacies or we can enlighten ourselves with the truth and with useful knowledge. At various times in history, people go down one rabbit trail or the other. I don't think our nature has fundamentally changed, but our understanding of it or understanding of the world is too often colored by things like the political heat of the moment or a fad of the day. Those things don't ultimately undermine our basic human nature.
That's awesome. That's an incredible way to explain it. Let's end with the notion of failure. When it comes to a capitalistic society, there's a failure that comes as a result of a person pursuing their curiosity, whether it's entrepreneurship or business. You look at where the central powers of government have stepped in and thrown their weight around is that failure hurts people, failure is bad. In order to protect the collateral damage of failure, the government has to be involved because they're the only ones that are going to look out for the best interest of the whole. How do you typically think through that type of logic that people use?Capitalism is what happens when you leave people alone. Click To Tweet
I don't know how anybody could look at the way the government operates now and say, "Somehow those guys can make up for our shortcomings." That's absurd. Some failures in life are inevitable and unavoidable and actually not necessarily bad. It depends more than anything else on how you react to it and what you learn from it. I don't think we should look to any entity, Capitalism, Socialism, government, whatever, as the outfit that's going to prevent failure. What we should be asking ourselves is what kind of system tends to minimize it, localize it, and maximize what we learned from it. That's what we want. You don't get that under a centrally planned top-down government-directed system because they fail all the time. They don't have the internal incentives to ride in to ship to adjust because their concerns are elsewhere.
Their concerns are re-election, getting a bigger budget, not serving you so much as maintaining their own position and power. In Capitalism, when you fail at something because you didn't control your costs or you didn't meet a need that was out there, somebody else did it better than you. There's a mechanism called profit and loss that immediately sends you a pretty powerful signal. It says right off the bat, "You need to get off this horse and get on another one." That minimizes the waste of resources that redirects human energy. I'm grateful for a system we call Capitalism that tends to minimize failure and to maximize service which every entrepreneur is trying to do.
Failure is one of the most amazing things to attach to as far as opportunities are concerned. Now though, I look at how failure is a bad thing. I've had a number of employees and it's been a very difficult thing over the years to unprogram or reprogram them to look at that making mistakes is a good thing if you handle it the right way. It's one of the most incredible ways to learn and accelerate that learning. As you've spoken in the idea of what the government has done and how they've failed, I think most people agree with that, but because their mission is for the betterment of society, it somehow accepts it.
I find it curious right now with the government shut down. I was watching the news. There was a segment on there about how gyms were opening up to federal employees that wanted to go work out. There were food banks that were opening up their doors. There was so much charitable drive to help those that were in need because of the government shutdown and they didn't have a paycheck. I find it interesting how people perceive government's doing and how incredibly strong that perspective is. It made me concerned to an extent. How have you looked at what's going on right now in the current environment and associated that with some of the stuff we've been talking about?
Every time I hear someone say, "We have to rely on the government for this to help those people." I always like to say, "You're selling yourself short." What you're saying is that the politicians are the ones with compassion. The rest of us dummies don't have that. We somehow have the wisdom to select the right people because they have more compassion than we do, but we don't have that kind of compassion. I think that is so ridiculous. It's absurd. It's childish. We should look around and rejoice and all the good things that people are voluntarily doing to help other people. They're doing it in spite of the fact that the government is swiping a quarter or more of what they earn. It's amazing how much charity there is after the government takes its cut. Don't sell yourself short.
This has been amazing. I hope you enjoyed the conversation. This has been incredible. I've enjoyed everything you've said.
Thank you. You have great questions. You drew it out of me and I sure appreciate that.
It's one thing that you and I have. I have a similar background where I didn't have very politically-involved parents. They had strong opinions one way or the other about commerce. They were both teachers. I just had the curiosity about how things work and how people behave. I came across a lot of your material in 2005, 2006. It gave me that same feeling and I didn't necessarily have the same experience as you did with seeing how a person's liberty was taken at a larger scale with the Czech Republic and Russia. I start to look at myself and I start to look at what I was taught and what drives me and what drives other people and the environment associated with the healthiest grooming of a human being where they can pursue what they want in happiness and joy. It's not something that can be dictated or force. It has to be chosen. Oftentimes, people gravitate toward this easy way of doing things. I'm not sure if that's the purpose of life.
I looked at the incredible experience I've had learning from you and learning from others who understand the principles of liberty at such a deep level and how much of an impact it would have on the average individual. Let alone the society, but just the average individual where they recognize in themselves that there is something special and that they can do incredible things with their life. It's inspiring and your website is incredible. You have so much information on there, more than can be consumed in probably ten lifetimes.
I've spread the word in regard to FEE and other organizations that are similar. I commend you and applaud you for all the effort you put into spreading this. I know it's not easy and I know that these are not widely held beliefs and understood beliefs. The way in which you do it is incredible because it feels genuine and eloquent and you do it with such a great demeanor. Thank you for all the work you've done and keep it up and continue to charge forward and try to get more people that understand this.
You made my day. Thanks so much for the very kind words. You seem like a guy who would be great fun to have lunch with. I'll look you up and I'll let you know when I come out your way next. Meantime, holler anytime if I can be of any help and let us know when this goes online and we'll be happy to help promote it on the website and on social media.
Thank you again. I really appreciate it.
It's my pleasure. Thanks, Patrick. I really appreciate it.