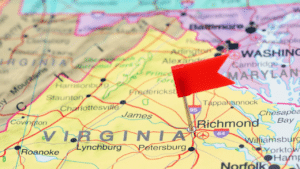 An Introduction to Virginia 2nd Amendment "Sanctuaries"
By: Michael Boldin
Over 90 percent of Virginia's counties have claimed "2nd Amendment Sanctuary" status since the Nov. 5 election that gave Democrats control of Richmond for the first time in decades. But their rhetoric doesn't match reality. The resolutions are symbolic and have no legal force.
The wave of sanctuary resolutions comes in response to state lawmakers, who along with Gov. Ralph Northam, have promised Virginians a number of strict gun control measures in the 2020 legislative session.
A vast majority of the state's 95 counties have adopted some type of sanctuary language. This has prompted Rep. A. Donald McEachin (D-Va.) to suggest that Northam (D) "may have to nationalize the National Guard to enforce the law." Meanwhile, the Tazewell County Board of Supervisors passed a resolution in support of a militia.
Here's what to know about Second Amendment sanctuaries in Virginia:
Do they have the force of law?
So far, all the measures being passed are resolutions, not ordinances. In Virginia, as in most other states, resolutions are generally passed to express the political opinion of a local governing body and are not legally binding. Ordinances are used to enact law.
In Stafford County, where a sanctuary resolution passed unanimously at its Dec. 17 meeting, Board Chairman Gary Snellings said, "It is symbolic, there is no question about it."
Spotsylvania Board of Supervisors member Greg Benton agreed. "We have no legal teeth."
What are they meant to do?
Although the term "sanctuary" implies comparisons to local jurisdictions that refuse to participate in the enforcement of some federal immigration laws, the similarities don't go beyond the name itself.
San Francisco is likely the most prominent immigration "sanctuary city." The "City and County of Refuge" Ordinance, first passed in 1989, "generally prohibits City employees from using City funds or resources to assist Immigration and Customs Enforcement (ICE) in the enforcement of federal immigration law unless such assistance is required by federal or state law."
While most of the Virginia resolutions include language similar to a model resolution provided by Virginia Citizens Defense League expressing the Board's "intent" that public funds "not be used to restrict the Second Amendment rights of the citizens," intent does not have the legal force of a prohibition, as in San Francisco.
Tazewell County Board member Charlie Stacy said his county's resolution was passed to set up a court challenge.
"The resolution is truly designed to allow us to hire lawyers to see that laws infringing on the Second Amendment never last any longer than it takes a court to remove them," he said.
Dana Schrad, executive director of the Virginia Association of Chiefs of Police, said the resolutions are "meant to put political pressure on elected officials."
Will local militias defend counties against new gun laws?
A growing number of media outlets have reported that Tazewell County is forming a militia to defend citizens against any new gun control measures.
Earlier this month, the county took things a step further than others by passing a second resolution supporting the right to a well-funded and regulated militia.
"Our position is that Article I, Section 13, of the Constitution of Virginia, reserves the right to 'order' militia to the localities," said County Administrator Eric Young. "Therefore, counties, not the state, determine what types of arms may be carried in their territory and by whom. So, we are 'ordering' the militia by making sure everyone can own a weapon."
As with 2nd Amendment Sanctuary measures, the Tazewell militia measure is also a non-binding resolution.
When asked about how the county would prepare residents to be militiamen, Tazewell County Board member Tom Lester explained:
"Our Militia Resolution will be funding firearms safety and training for our county's citizens, the ROTC and the public school systems – as well as the Boy Scouts and Girl Scouts. These preparations are done to prepare our citizens to be able to become de facto militiamen if need be."
County Board Chairman Travis Hackworth echoed this telling News Channel 11 that funding from the budget would go to programs such as the Boy Scouts of America, the Girl Scouts, JROTC programs and weapons training courses.