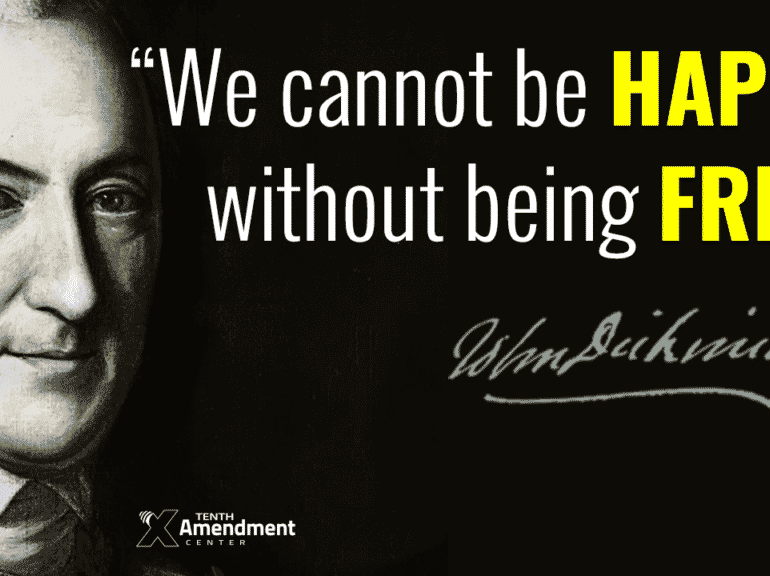 By: Michael Boldin
WHO ARE A FREE PEOPLE?
It's a question that's rarely asked – or explored. But John Dickinson, the "Penman of the Revolution," thought it was incredibly important. He discussed it this way in 1767:
For WHO ARE A FREE PEOPLE? Not those, over whom government is reasonable and equitably exercised, but those, who live under a government so constitutionally checked and controlled, that proper provision is made against its being otherwise exercised
Part of the most widely-read documents on American liberty until the publication of Thomas Paine's Common Sense in January 1776, Dickinson's "Letters from a Farmer in Pennsylvania" made the case that people aren't free just because government people – those with power – just happen to be doing the right thing when it comes to liberty.
That's little more than good fortune.
Instead, for the Founders and Old Revolutionaries, freedom only exists with responsibility – anytime government tries to take even a single step beyond its just limits, it's pushed back so quickly, it can't get away with violating liberty.
Dickinson put it this way:
A FREE people therefore can never be too quick in observing, nor too firm in opposing the beginnings of alteration either in form or reality, respecting institutions formed for their security.
Dickinson recommended opposing small usurpations immediately to prevent them from acquiring the force – and eventual permanence – of precedent.
The same mentality – of freedom only existing with the responsibility of the people to defend it – was carried forward to the Constitution for the United States. In 1803, St. George Tucker described it like this:
"When responsibility ceases, slavery begins. It is the due restraint and not the moderation of rulers that constitutes a state of liberty; as the power to oppress, though never exercised, does a state of slavery."
For Dickinson – the work of defending liberty would never be finished:
"A perpetual jealousy regarding liberty is absolutely required in all free states."
The founding generation didn't always use the word "jealousy" in our more modern sense. In this context, it was far closer to suspicion or distrust and protection or vigilance.
In other words, a society can only remain free if the people closely watch and quickly block any attacks on liberty.
And this is the same approach that Patrick Henry urged in the Virginia Ratifying Convention:
"Guard with jealous attention the public liberty. Suspect every one who approaches that jewel."
But even with all this – human nature assures us that a "bad administration" of government may take place.
"What is then to be done?" asked Dickinson in his 4th Fabius essay in 1788:
"The answer is instantly found," he wrote, "before the supreme sovereignty of the people."
IT IS THEIR DUTY TO WATCH, AND THEIR RIGHT TO TAKE CARE, THAT THE CONSTITUTION BE PRESERVED; Or in the Roman phrase on perilous occasions – TO PROVIDE, THAT THE REPUBLIC RECEIVE NO DAMAGE.
And that's the same message that Samuel Adams gave us in October 1771. Here, writing as CANDIDUS in the primary paper of the Sons of Liberty, the Boston Gazette:
"The truth is, all might be free if they valued freedom, and defended it as they ought."
In short: It's up to the people to protect and defend their own constitution and their own liberty – whether the government wants them to, or not.
Going from the largest government in history to a true "land of the free" won't be quick or easy. There is  no "silver bullet."
In The American Crisis IV, Thomas Paine may have summed it up best:
"Those who expect to reap the blessings of freedom, must, like men, undergo the fatigues of supporting it."