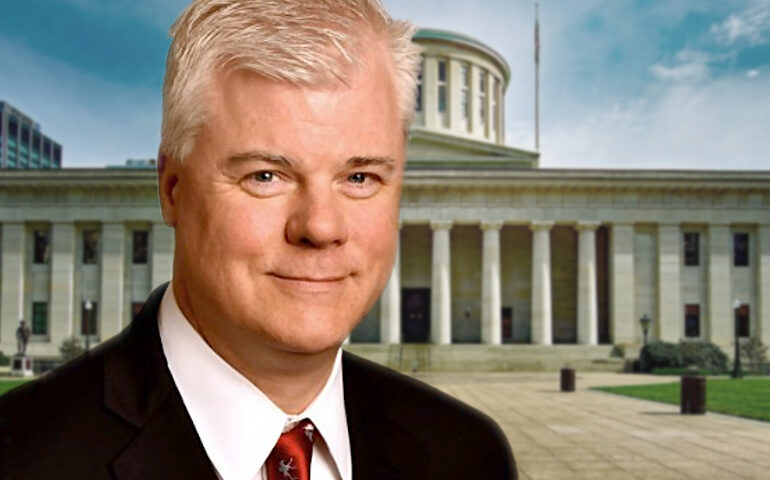 McCarthy Resignations Sparks Reaction from Committee for Better Ohio
A former lobbyist for the FirstEnergy Corp. electric utility at the center of an ongoing federal public corruption scandal has suddenly resigned his post as Ohio Governor Mike DeWine's director of legislative affairs.
Dan McCarthy, who has held the high-profile post since early 2019, submitted his letter of resignation on Sept. 24 effective immediately to the jeers of rival GOP gubernatorial candidate Jim Renacci and the Committee for a Better Ohio, a reform-minded conservative grassroots education organization.
In the resignation letter, McCarthy gave few details about his decision without advanced notice other than saying  he had long intended to leave after no more than one or two years at  the advice of predecessors in previous administrations. He had joined the DeWine administration soon after DeWine's January 2019 inauguration.
" … As with any intense experience, there is a time to take a break," he wrote. "… Governor, it's been the ride of a lifetime."
McCarthy mentions many of DeWine's legislative initiatives since the governor took office in January 2019, including the OhioRISE program to improve the coordination of mental health care for children, and the H2Ohio program designed to reduce agricultural runoff into source of public water system and improve aging water and sewage systems.
He also mentioned DeWine's leadership in prioritizing more state support for road and bridge repairs.
The letter made no mention of the FirstEnergy bribery scandal at the Statehouse, in which the Akron-based electric utility in July admitted funneling campaign cash to legislators supportive of the July 2019 passage of House Bill 6 in conjunction with disgraced ex-Ohio House Speaker Larry Householder.
McCarthy, a FirstEnergy lobbyist just prior to joining the DeWine administration, had also served as president of the Partners for Progress 501(c)(4) nonprofit, a so-called  "dark money" entity found to have later shuffled cash to several legislators through Generation Now, a similar entity the U.S. Justice Department allege Householder created.
The cash went to legislators who also agreed to support Householder's bid to return as House Speaker.
Reports allege some of that cash ended up in the campaign coffers of the governor as well as the Ohio Republican Party. (DeWine has said those contribution were donated to charity after the scandal broke.)
McCathy has denied any involvement in the distribution of the political payoffs.
DeWine's press office did not comment on the resignation when contacted by The Star.
Former congressman Jim Renacci, who is challenging DeWine for the GOP gubernatorial nomination in the May primary,  suggested the resignation could be tied to the ongoing FirstEnergy investigation that has yet to ensnare any officials within the DeWine administration.
"The walls are closing in on Mike DeWine and his shady cronies," Renacci said in a statement sent to The Ohio Star. "The FirstEnergy pay-for-play corruption scandal is far from over."
Jon Morrow, policy director for the Committee for a Better Ohio grassroots organization, echoed Renacci on the potential tie to the FirstEnergy investigation.
Morrow also pointed to the administration's mid-August decision to reinstate St. Louis-based Centene Corp.'s Buckeye Health Plan as one of seven providers of managed care services for Medicaid clients in Ohio just two months after Ohio Attorney General Dave Yost had received an $88 million settlement of charges Buckeye Health had overcharged Ohio's Medicaid system for medications.
Morrow noted two of McCarthy's former colleagues in his old lobbying firm still represent Centene.
"While the Statehouse media has focused on FirstEnergy," Morrow said in an interview, "we believer McCarthy's ties to Centene are even more unethical."

In his resignation letter to DeWine, McCarthy recalled still-controversial decisions the governor made in the early days of the COVID-19 pandemic, starting when DeWine cancelled The Arnold (Schwarzenegger) Sports Festival in Columbus. DeWine then had his director of the Ohio Department of Health postpone Ohio's March 2020 primary election just hours before the polls were set to open as well as other policies such as business closures many conservatives still criticize.
Staff members "were taken aback until you explained to us the the awesome responsibility vested in the Governor to make life and death decisions," McCarthy wrote. "Those two days summed up the last 2 1/2 years in the DeWine administration – if there's a problem, fix it and don't hesitate to make the hard decisions."
Brian R. Ball is a veteran Columbus journalist who reports for The Ohio Star and Star News Network. Send him news tips at [email protected]